Well, we had two birthdays this week! My two oldest boys are growing up so fast. They constantly amaze me everyday in all they do and say. I am so proud of them! <p> Since they have birthdays close together and we have a large family, I was trying to think of something fun, active and not expensive this year. My nephew also has a birthday next week so we decided to plan a birthday party together. The idea came to us when a friend mentioned the church rented out their gymnasium at times for birthday parties! It is winter here, wet, muddy/snowy, so they have not gotten alot of running time in. <p> The gym was rented for only $20 which my sister and I split, we brought some simple snacks like pretzels, carrot sticks and dip, cheese and crackers, flavored popcorn and did root beer floats instead of cake. <p> They had so much fun! It was great because it was a party the men came to and played with them and not much planning for games etc. There were balls, nets and plenty of space to run, shout, play and do whatever! It was the best party ever, my boys told me! <p> Root beer floats were really cheap, I bought a huge 3 liter pop bottle of root beer for $1 and half gallons of ice cream for $1.25 each. We had over 23 children and maybe 10 adults and used two things of ice cream, I think! <p> It was a great way to have a birthday party where everyone had alot of fun and we did not all have to pay high amounts of money, but just old fashioned fun with lots of running, jumping and lots of tired children at the end!
<p>

Enjoying snacks!!

Three three year olds…..The one standing is my youngest son, the one with the green bowling pinsm is my nephew and then a friend!

Three eight year olds! My son, my niece and my youngest brother!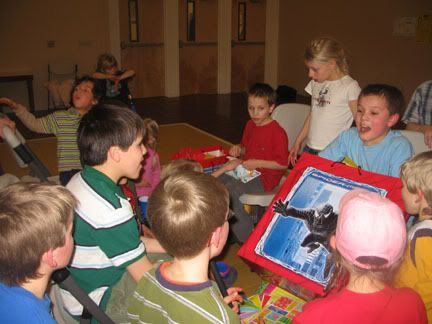 Do you thin he was excited? My sister got him a remote car……