As I mused on life, and observing this lovely sunset, I found the thoughts circling in my head.
I am an observer of nature, of life and those that are around me. I watch reactions, take note of them and read whatever appears to me to store away for the future.
The one thing that I have taken a lot of note of this year is on the topic of Isolation. We have been encouraged to isolate, which for me has been so healthy in many ways, but the attitude of isolation has not been. As an introverted person, isolation is my happy place. I love it. I love days where I stay home, have no reason to talk to anyone, or even get presentable for people.
But I have learned through many years of practice and social convention, that what we like is not always good as well. Since being social is not something that is second nature to me, I have had to relearn how to pull on those skills that I have honed over the years. It is hard to be dependent on others. It is hard to know how to be socially appropriate.
This past week, there was a comment about inappropriate gestures, words, and speeches from people, and how while they were free to do so, thinking of how it impacts their jobs, friends, family and housing options is something to be aware of. As someone that screens people for housing, which is a very difficult job, I know this to be true. If you have a public profile picture with an obscene gesture, it tells us something about your character and how you may deal with conflict. There is often conflict in housing situations, even if I try my hardest to prevent it. Someone that is openly inviting conflict in their intro, there will be consequences for those actions. I was attacked quite harshly for this, and while it was not allowed to continue, it was a shock as the response was highly uneducated.
For many of us though, when we see these interactions in person or online and our first response, or at least mine, is to walk away, or hole up inside my home.
Last year in January, I faced some of the hardest days of my life, putting me in a position caught between many friends of mine. I am not talking about social media, which many people blame for conflict. I am talking about in person. I am not talking about the pandemic or anything to do with that, but simply conflict. There was no chance for a grand exit off social media. It would not have helped. I had blood work done on the day of the greatest stress, and it showed in the results. The multiple panic attacks, nightmares, resulting in waking up covered in sweat in a home that was 58 degrees is not welcomed.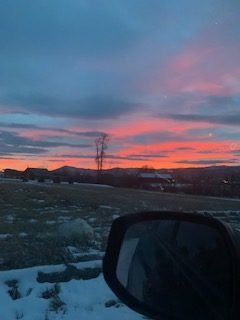 Isolation. It was very marked. When you feel that if you say the wrong thing, you will be ostracized, it encapsulates you into a cocoon. We as a people tend to be forthright in nature, but when the grand exit from platforms like social media, churches, gatherings, groups or clubs occur, it saddens my heart. It could be that personally, it causes me to remember loss, but in this, it truly shows division and isolation. "Brethen, it ought not to be so." to quote the bible. We are not created to be an isolated people. As this year, our lives did move online so many days and weeks, barring yourself from allowing others to partake in your lives, being hateful and dividing on purpose is not correct. What is more sad is those that claim this is the calling of God.
We need support more than ever now. To those that have to stay at home to be healthy, we need ways to connect with you, so you are not isolated. For those that need to be working in the community, abide by the local governing authorities, we need ways to connect with you.
I have seen people die this year that I care about. It has been from suicide, car accidents, disease, viruses, and the like. It is heart wrenching. But what I have seen more this year which breaks my heart even more is the pride and arrogance that we do not need one another.
As we stare at the sunset of an era of division, let's make choices to change this. No matter what club, group, educational format, status that you are a part of, seek out ways to unite others, not divide them.
But if ye bite and devour one another, take heed that ye be not consumed one of another.

KJV Bible Galatians 5:15
For those of you that read the bible, that is a stern admonition.
For me, it speaks to the state of how I have felt many times this year. When we seek to bite and devour one another with words and actions, we will consume one another and be more isolated in our lives.
While we are seeking connections online, offline, or elsewhere, be sure to remember that there are people on the other side of the screen. Dissing someone biblically is still a Diss.