Reviewed by Martha Artyomenko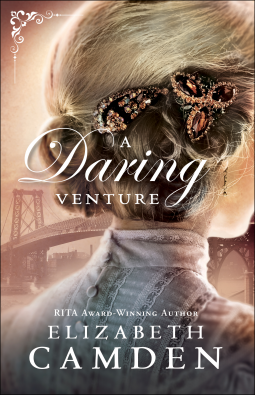 Description
As a biochemist in early 1900s New York, Doctor Rosalind Werner has dedicated her life to the crusade against waterborne diseases. She is at the forefront of a groundbreaking technology that will change the way water is delivered to every household in the city–but only if she can get people to believe in her work.
Newly appointed Commissioner of Water for New York, Nicholas Drake is highly skeptical of Rosalind and her team's techniques. When a brewing court case throws him into direct confrontation with her, he is surprised by his reaction to the lovely scientist.
While Rosalind and Nick wage a private war against their own attraction, they stand firmly on opposite sides of a battle that will impact far more than just their own lives. As the controversy grows more public and inflammatory and Rosalind becomes the target of an unknown enemy, the odds stacked against these two rivals swiftly grow more insurmountable with every passing day.
My Review:
So, if the cover and the beautiful hair adornments on the front of this book were not enough to get you to pick it up, you have to pick it up for the history. I never knew plumbing, and the chemistry of the purification of water could be so interesting. I mean, forget history books, put a few more of these on the shelves and  history is fascinating.
Was there a storyline besides that? Oh, of course. What is  a book without a storyline? Well, a textbook, but this was no textbook. I found myself wanting to pull out and study them though. I cannot wait for the next book in this series when I was done, but this story throughly wraps up the details in the end. It is not one that you are upset that you have a year to wait, but you are wanting more of the story and the characters.
I am not sure that I have seen a narcissistic character so well portrayed as in this book. She had nice moments, but in the end, she seeks to make her own way by hurting others to make herself better. Secondary character, one you will recognize from the first book, but a memorable one.
Life lessons learned from this book? 
-Thankfulness that so far, chlorine has not been proven deadly when used in small amounts to purify water.
Deceit never pays off. Not in books, nor in real life. If you think you are stuck in a jam and can't tell anyone, likely that is when you should tell someone.
Don't try to understand a narcissistic person. They will end up just hurting you more in the end, no matter your good intentions.
Cholera was awful. I am so thankful we don't have that anymore.
I highly recommend this series. It is the second book in the series, but they could be read as a stand alone, I would recommend you read the first book before this one, as I feel you will enjoy it more and know the characters better.
This series would be excellent to make a whole high school unit study from as well.
This book was just recently released, but is available at your local booksellers (hopefully) and Amazon.
I obtained this book from the publisher and NetGalley. The opinions contained herein are my own.