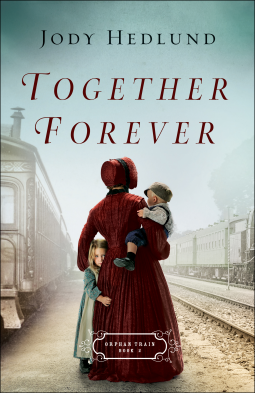 Reviewed by Martha Artyomenko
Description
Marianne Neumann has one goal in life: to find her lost younger sister, Sophie. When Marianne takes a job as a placing agent with the Children's Aid Society in 1858 New York, she not only hopes to give children a better life but seeks to discover whether Sophie ended up leaving the city on an orphan train.
Andrew Brady, her fellow agent on her first placing trip, is a former schoolteacher who has an easy way with the children–firm but tender and funny. Underneath his handsome charm, though, seems to linger a grief that won't go away–and a secret from his past that he keeps hidden. As the two team up placing orphans amid small railroad towns in Illinois, they find themselves growing ever closer . . . until a shocking tragedy threatens to upend all their work and change one of their lives forever.
My Review:
The first book in this series (and these are not stand alone books), was not about the traditional orphan trains as much as I thought it would be. This one was more traditional.  I enjoyed the storyline, and following up on Marianne's story a bit more, getting to know her, as it were.
Ms. Hedlund is talented at pulling out pieces of history that actually happened, real life stories, both the sad and the good. This book was no exception.
It addresses something that many of us face, the ability to blame ourselves for things that we are not responsible for. It often seems easier to blame us as we believe it of ourselves.
This story could be used to demonstrate lessons, but also if you were studying history, a way to learn about some of the orphan trains and their history.
I obtained this book from NetGalley and the publisher. The opinions contained herein are my own.
This book is available for pre-order and ships May 1st. You can find it from your local book sellers and here on Amazon.
Together Forever