Reviewed by Martha Artyomenko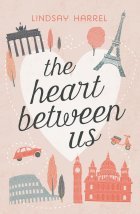 Book Description
Megan Jacobs always wished for a different heart. Her entire childhood was spent in and out of hospitals, sitting on the sidelines while her twin sister Crystal played all the sports, got all the guys, and had all the fun. But even a heart transplant three years ago wasn't enough to propel Megan's life forward. She's still working as a library aide and living with her parents in her small Minnesota hometown, dreaming of the adventure she plans to take "once she's well enough." Meanwhile, her sister is a successful architect with a handsome husband and the perfect life—or so Megan thinks.
When her heart donor's parents give Megan their teenage daughter's journal—complete with an unfulfilled bucket list—Megan connects with the girl she meets between the pages and is inspired to venture out and check off each item.
As Megan and Crystal check items off the bucket list, Megan fights the fears that have been instilled in her after a lifetime of illness. She must choose between safety and adventure and learn to embrace the heart she's been given so that she can finally share it with the people she loves most.
My Review:
I really enjoyed this book. I think take the story of two sisters, set apart by time, illness and work load and really put them together and it just makes for good story.
The writing is superb, and really pulls you into the story, making you journey with the two sisters, each told from their point of view.
It reminded me of Katherine Reay's books a bit or maybe even Hilary Lodge's writing. I just wanted to savor the book, but at the same time, I wanted to finish the story. While there is a hint of romance, that is not the focus of this book.
This book is more on forgiveness, communication and finding what is truly important to you, beyond your work, your health even or where you live. It is about relationship and communication the most, was what I saw.
I cannot wait to read more of what this author has to give us in the future!
This book is available for purchase from your local book sellers and Amazon.
I obtained this book from the author and BookLookBloggers. The opinions contained herein are my own.