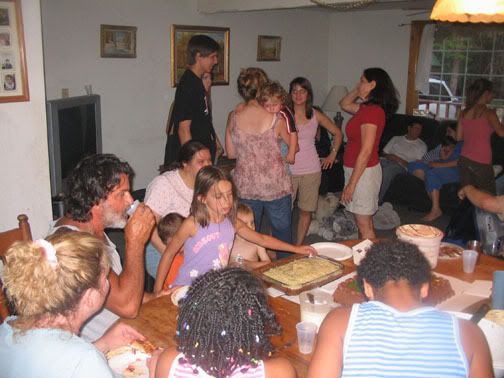 Our Family is large and as you can see by this picture, a little chaotic! One thing about them all, it is never dull around them! If you get bored, it is for sure your own fault……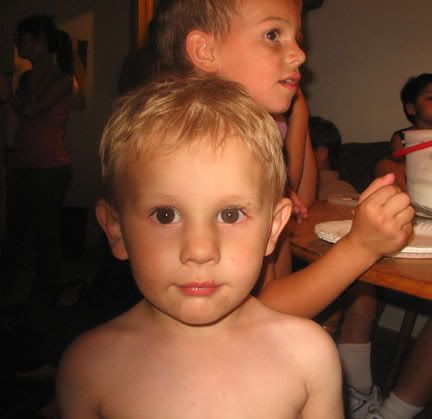 Birthday Boy! My youngest son was born on my cousin's birthday! It was my birthday present to her that year! Here is a picture of her and her son as well!

Birthday Cake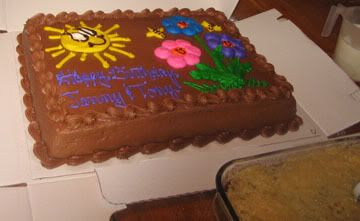 Tired out after all the activities of the day, my youngest was sleeping with his cousins. My one niece is so much like me, she did not like all the noise and just wanted to lay down and read her book.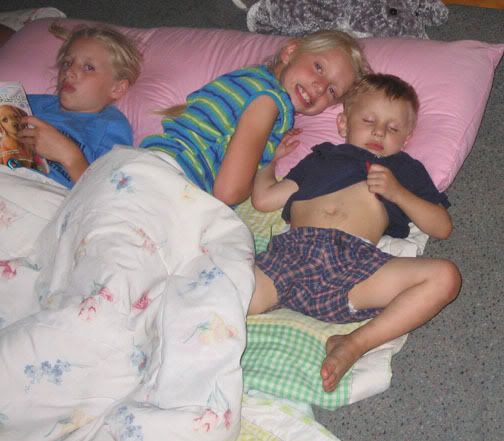 This picture has a funny story to go along with it, well, sort of funny! My mom's house had alot of bees there, yellow jackets, technically, and hornets. It seemed like every few minutes someone got stung. The boys were all planning on sleeping in a tent, but as my third son laid down and got stung, they were a little tent shy. They all hauled their blankets inside to sleep, but slowly started a interesting routine of musical beds. At about 12 or 1 am, my brother and son, came running into my room. "There is a bee on our couch bed!!! " they exclaim. I tell them to lay down on the upper bunk and try to fall asleep again. A few minutes go by of silence and then I hear "Something is flying above my face!" Next thing I know they are off the bed again and disapear! I am too tired to investigate, so the next morning I came down and found them like this!!!