(Lunchtime on one day this month)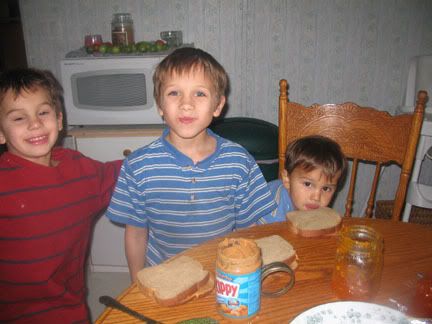 I decided I am going to try a week of soups and bread, so thought I would share my soups as I go along- probably at the bottom of the next posts each day.
<p>
Last night I got home late and had not much time, so we made an easy potato vegetable soup. We boiled cubed potatoes, then added 3 cubes chicken boullion, and a pkg of frozen broccoli, cauliflower and carrots. I added some salt and pepper and served it with a sprinkle of cheese on top! It was really good! I had gotten a roll of pkg. breadsticks for $.40 so baked those to go with the soup. I decided I really dislike the taste of those things and will not waste even .40 on them, however handy they are. They were okay, but not the best! <p> The whole dinner was cheap, filling and we had plenty for lunch today. <p> I want to try these pita breads that Tammy posted here. I have always wanted to make pita bread, and this looks really easy.
I will post again later with the rest of my plan for the week. <p> Any suggestions of a good soup that would go with the pita bread? I was thinking about making Falafels as I have a good recipe for them. I used to make them with cooked soybeans even and they were good too, one of the only ways I could stomach them.<p> tonight's soup was Spinach Tortellini, but I had about 4 tortellini, well, maybe 5 or 6 in the bottom of the freezer, so I used egg noodles also. It was good! We didn't have any parmesan so ate it without it, it is better with it, but it was good anyhow. It is a great way to eat spinach!