When someone asked my son what he learned the last week, he said he didn't remember! It was a blur!
Monday was a normal day, we did our MFW Rome reading in the morning, practicing our bible verses, learned our root words for Patriarch and Matriarch for the week. We have fun with it!
At 10:45, H. tutor for reading comes to work with him for an hour and we finished up some school. I went over some of his fractions, and taught him a few new things!
In the afternoon we went to the library. They were finishing a move over with their DVD's and I had the most fun helping them put DVD's back in the cases and putting them on the shelf. I am not sure why it was so fun, but I loved the order and alphabetizing!
We had basketball practice in the evening and walking.
Tuesday was another busy day: I planned a crock pot chicken stew and put bread in the bread machine, but I thought I remembered it didn't bake anymore. I came home to a nice risen bread dough that I let rise again and made some yummy bread.
We did school in the morning, like usual, but did extra as we had a field trip the next day of our MFW and then we headed out to try to get the oil changed in the van. I was trying to get it done for awhile, but it seemed to not work out! I had already missed one appt! We got there and I found out I was early, but explained to them that we had a basketball game to get to, so they hurried us through. The boys love it there as they have a big basket of fruit and apple cider/hot chocolate to drink. P. worked on his writing while sitting and waiting and I managed to finish a book I had been working through.
We were almost done, starting to get a little tense, when they called and said the school where we were playing had no power on account of the wind storm earlier and the game was canceled. We were all disappointed and then a few minutes later, they call back and say that the game is back on!! We finished the van, and headed out for the game!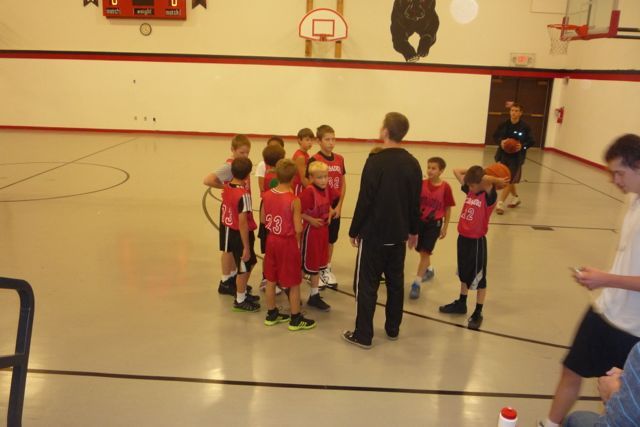 Pep talk from the coach
It was a super exciting game that was very close, with us being far ahead, but in the last quarter, they advanced and won by one point!
It was a lot of fun to watch how much fun they were having and how much they had improved!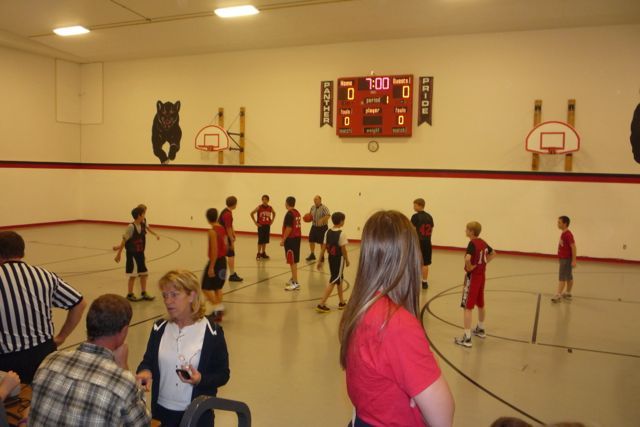 The 7/8th grade teams played next and it was similar for them. They were quite a bit ahead, and then the other team started edging in on them! They played well and were enjoying themselves as well!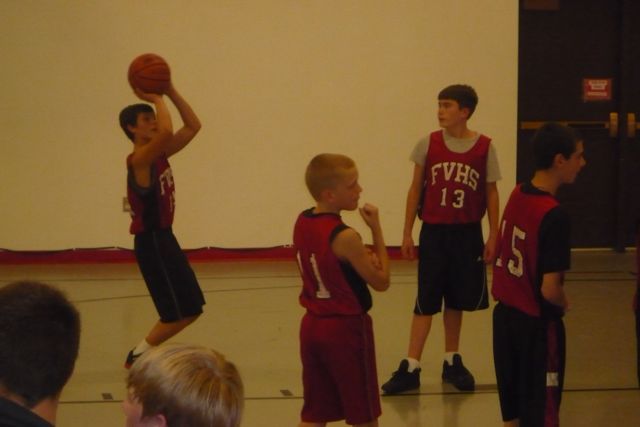 P. making a basket
They ended up winning by a few points, but it felt good!
Wednesday- We did math and language arts, and then went to the Wastewater treatment plant at 10 am. for a field trip.
I had offered to meet a friend and take her two oldest for her, so we had a couple extra. I knew it would be a stinky field trip, but it was not as bad as I imagined!
Look at those wrinkled noses!! This is where the final product is cleaned by the UV lights, there were tons of bugs though in there…it really didn't smell bad, we were just imagining that this was the "clean" water.
They showed us where they filter out the "chunks" and clean it. They clean and use everything. Everything is recycled and reused to the point that it is a little disgusting!


Here we were looking at one of the tanks where they filter out the silt or leftovers after the chunks were gone.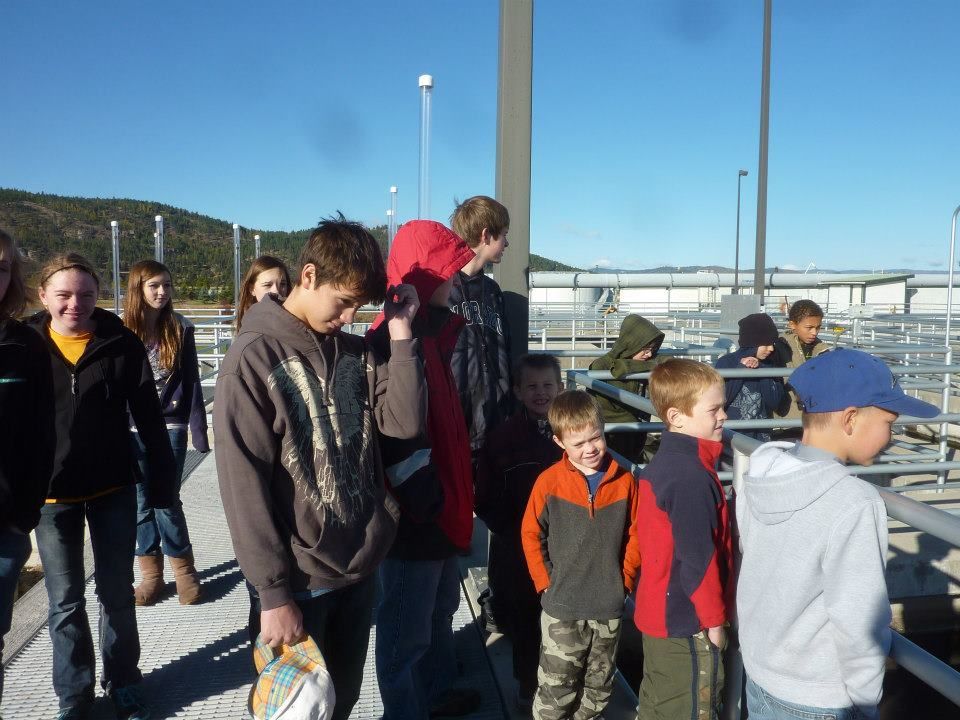 There is a final tank where they put air back in before they put it in the creek!

You had to laugh at this sign!
Thursday- We had classes until 1:30, but with the other ones we did our school in the morning as they have classes 11-1:30. I met T. and went to a friends for tea after grocery shopping. Everything seemed to go a little haywire all day though, and I was ready to fall apart, but they were able to give me some encouragement and I could face the rest of the day!
There was more basketball practice and more walking….and my husband managed to change the oil in the car. I made a large pot of sauce for the pizza party on Friday.
Friday- We did our school in the morning, cleaned the house. My son baked a pumpkin sheet cake that was really good. He was so happy with it! It vanished in minutes at the party! I cooked the sauce down more, and then we headed to the homeschool support group meeting. We had over 66 people expected, but it started pouring rain, so we were unsure of how many could come!
We ended up using over 52 crusts, so we had a good turn out!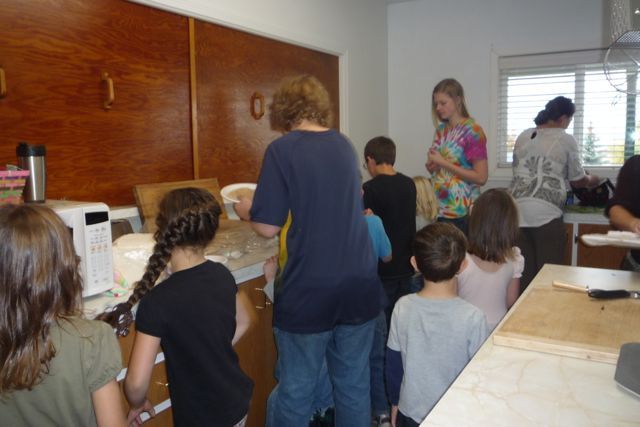 Everyone lining up to fill up their crust with sauce, cheese and toppings.
There was a lot of people, but it seemed like everyone had fun!

P. and L. waiting for pizza!
It was a little more than what we planned on, but I hope everyone felt encouraged!
We headed over to the Red/White BB game, which was good! They played well, although L. is still getting the hang of it! Afterwards they had practice, so friend and I went for a walk without kids, which was faster and we got a longer, faster walk. It was very nice!
I went home and made 5 lbs. of meatballs and mini meatloaves to put in the freezer and serve with spaghetti for dinner. Hopefully it comes in handy. I then remembered I needed a snack to take to the writing group meeting the next day, so I made some cookie bars.
Saturday was not a school day for the kids, but it was for me when I headed to meet with our writing group with some new friends. I got to listen to Jim and Tracie Peterson teach about plotting and we had a ton of fun! There was lots of good snacks and afterwards we stopped at the mall and had a good dinner.
I was able to regroup after the busy week and be refreshed and ready for week 9!! I am sorry there are more words and less pictures, but I have run out of time to get my pictures off my camera!