Reviewed by Martha Artyomenko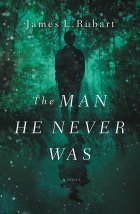 Book Description
What if You Woke up One Morning and the Darkest Parts of Yourself Were Gone?
Toren Daniels vanished eight months back, and his wife and kids have moved on—with more than a little relief. Toren was a good man but carried a raging temper that often exploded without warning. So when he shows up on their doorstep out of the blue, they're shocked to see him alive. But more shocked to see he's changed. Radically.
His anger is gone. He's oddly patient. Kind. Fun. The man he always wanted to be. Toren has no clue where he's been but knows he's been utterly transformed. He focuses on three things: Finding out where he's been. Finding out how it happened. And winning back his family.
But then shards of his old self start to rise from deep inside—like the man kicked out of the NFL for his fury—and Toren must face the supreme battle of his life.
In this fresh take on the classic Dr. Jekyll and Mr. Hyde, James L. Rubart explores the war between the good and evil within each of us—and one man's only chance to overcome the greatest divide of the soul.
My Review:
I never quite know what to expect when I pick up a book by James L. Rubart. This one really had me stopping, setting the book down and thinking before I could pick it up again.
There is never a book that touches everyone. For me, this genre is not my normal genre. I love women's fiction and historical. This is nowhere near either of those genres. For me, this story is a tale of a man that allowed the evil to control him, the evil that is within many, and it nearly destroyed his life and his family. It is the story of the journey that he takes to conquer it, which when done in your own strength is impossible.
I was deeply touched at certain parts of the book. Some of the thoughts were so deep, it made me have to wrap my mind around it.
I will say while this book is not about domestic abuse or child abuse, it touches on both of those. There are a couple of descriptive scenes that if you have been there, will either endear you to the characters, or will cause a trigger to arise depending on where you are in your healing. For me, it was healing.
If you read this book with the mindset that you are just going to read a nice story, you may not get the meaning of this one. It is much more than that. But if you are reading this book to see what true love and repentance can look like, this one does share that.
Very unique story, that I highly recommend.
I obtained this book from the publisher and BookLookBloggers. The opinions contained herein are my own.
This book is available for purchase from your local booksellers, (hopefully) and Amazon as well as many other places. I highly encourage you to purchase a copy for yourself. It will be a  journey that you will want to go on.
"The Man He Never Was"  (Plus, it is only $1.99 right now on Kindle)