We have been busy with basketball and it is a lot of work to get healthy snacks for the spectators and have dinner ready, without having to eat at 9 pm.
I found that with a little planning, dinner can be simple, snacks can be cheap and good.
It does take some work, I won't deny that, most mostly it takes thinking ahead and planning.
This week we were out of the house almost everyday last week.

Basketball games were exciting….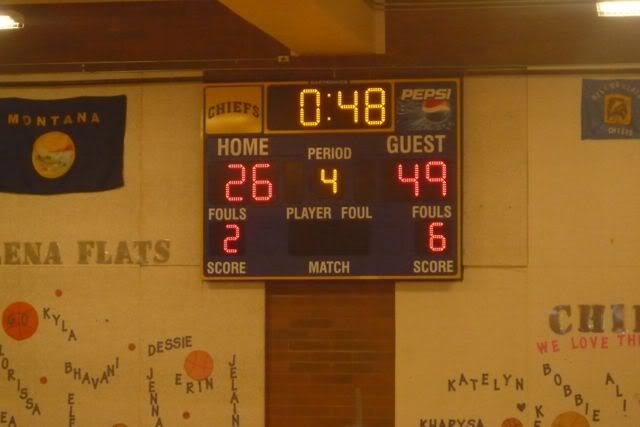 (49 was our team)
But….I first found these snack trays at Target that are Ziplock. They have three compartments and seal separately.
I have done a variety of things. I have done homemade granola bars, popcorn, Pumpkin muffins (These were really good. I used fresh pumpkin and no pumpkin seeds, cut down the sugar, and added some chocolate chips on top of some and a little baking powder. The boys loved them!!! I also made them all whole wheat) and peanut butter sandwich squares.
When we went to the pumpkin patch and I made spiced chai cupcakes frosted with candy corn flowers with apples and popcorn to take with us.
It saves me money as it is cheaper to use the ingredients I have at home, even if they are things we don't always eat, but then when they ask for snacks that are being sold, I don't have to just say "no", I have a tasty alternative. They don't feel deprived and yet, saves me money.
For dinners, I have been using my crock pot a bit more. So far this week, I tried a veggie pasta bake, which was good, but would have been better if we got home an hour or two sooner. A enchilada casserole with salad, which was wonderful, I will be repeating that one. I also did some stew and bread, with the bread dough in the bread machine and I baked it in the oven when I came home. The other meal I did, was all chopped fresh vegetables with some cubed cooked spiced chicken to make these Greek chicken wraps. It went together fast, I just cooked the chicken up and set out the chopped vegetables and it was dinner!!! The store did not have the pitas I wanted, I ran out of time to make them like I usually do and so I ended up using tortillas, but they were good!

My son grew carrots for the first time this year and he was so excited and shared the tops with the bunny!
They make a good snack too!

My good friend Bobbi who came to visit! We had fun shopping, running to games, lessons etc.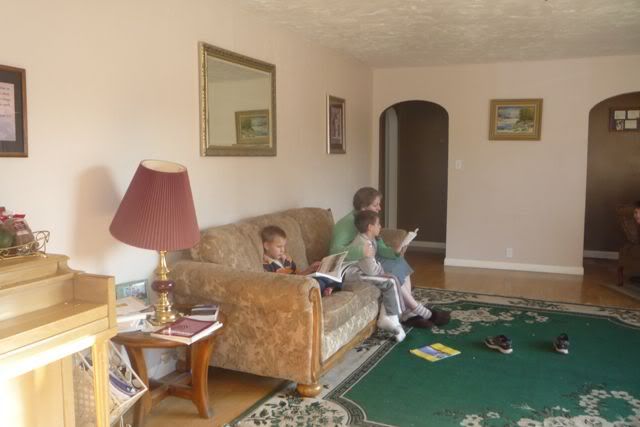 My voice took a leave of absence for a day and she helped me with our reading time.

My sister gave her a hair trim while she was here….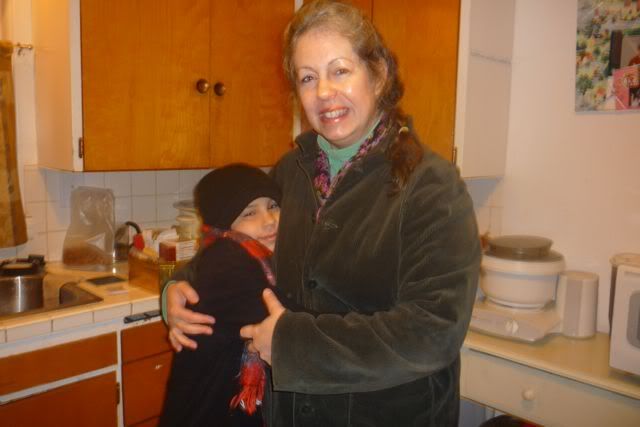 Loving on little boys before boarding the train….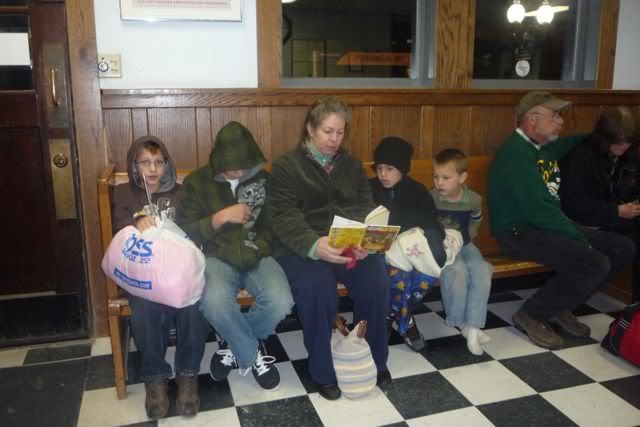 One last read…..
Enchilada Casserole
Enchilada sauce:
2 c. water
2 c. beef broth
1 can enchilada sauce
2 T. New mexican chili powder
4 T. cornstarch mixed with a little water.
Bring broth and water with chili powder to a boil. Add enchilada sauce and cornstarch. Stir until slightly thickened, like thin gravy.
Meat filling:
20 oz. ground turkey (or less)
2 cans black beans, drained and rinsed (or home cooked ones)
Cook meat and add beans. Add a spoon of sauce, some cumin to taste.
Other:
Grated cheese
Corn tortillas
Spray or grease inside of crockpot. Pour two generous ladles full of sauce on the bottom. Layer corn tortillas, meat filling, sauce, and cheese, ending with lots of sauce and cheese. Cover and cook on low for 6 hours. 8 hours was a little long!!!