Well, yesterday one thing happened after another….it was seriously one of the worst weekends in a long time. I think the climax was when I walked into the other room, the boys decided to bake. It was partly my fault as I had told them could get a drink, so when I heard a strange noise of water, I thought it was fine, but when I checked I was shocked…..how on earth in such a short amount of time can 2 boys make such a mess. It actually cleaned up well, but 8 lbs of sugar was dumped into a bowl of water in the sink and flour was salvaged, but it was in my carpet. <p> Anyhow, today, the house is a mess, but we are working on school. I gave up on some of the bookwork as we got started late and they could not think well. So we got some math and reading done and then started on my feeble attempts to make a sort of a lapbook on fall. We'll see how it turns out. <p> Here is a picture of us starting. The picture is small so it hides the mess on the counter!

The living room on the other hand, there is no hiding the mess!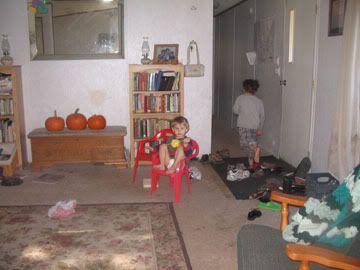 So, what can we be if not real? Life is hard sometimes…..