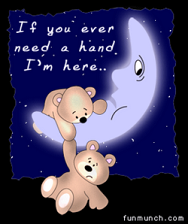 I got awarded my first award…..from my wonderful friend Grace! Grace has been such a sweet friend to me, even though she lives very far away in cold Alaska! If you follow the link you can go and visit her blog and congratulate her on expecting their seventh baby! Thank you, Grace!<p>
AWARD RULES
1. Please put the logo on your blog.
2. Place a link to the person from whom you received the award.
3. Nominate 3 or more blogs.
4. Put the links of those blogs on your blog.
5. Leave a message on their blogs telling them they've won an award!
I would like to nominate the following ladies:
Diana- Islandlife
Diana has been a long time friend, if she could put up with me when I was 12, then I know she must be a friend for life!

<p>
My mom- Joyce
My mom is a wonderful person whom I always know I can talk to if I have a problem, or just need to chat!
<p>
My cousin- April
I really appreciate having her around!
I could go on and on……..